ETH Circle Annual Meeting 2022
The next ETH Circle Annual Meeting takes place at the Mühle Tiefenbrunnen in Zurich, starting with lunch on 17 June 2022. Please find below what we have planned including our optional pre-event programme before lunch. Registration closes on Friday 10 June. Click the arrows below right to view the details.
Mentoring Pilot Breakfast
Lunch
Opening and Introduction
Workshop – Round 1
Coffee Break
Workshop – Round 2
Coffee Break
Wrap up
Apéro
Seated Dinner
Dozentenfoyer, Rämistrasse 101
Clausiusstrasse 16
Workspace
Workspace
Workspace
Workspace
Workspace
Workspace
Bar / Outdoor Terrace
Kornsilo
08h30-09h30
10h00-11h00
12h00-13h30
13h30-14h00
14h00-15h00
15h00-15h30
15h30-16h15
16h15-16h30
16h30-17h30
17h30-18h30
18h30 onwards
Mentoring Pilot Breakfast 08h30-09h30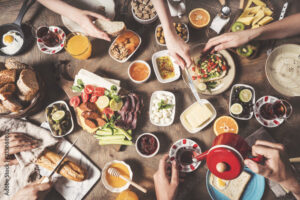 (Photo: Adobe Stock)
This pre-programme session is an informal gathering for anyone that participated or is interested in the Mentoring Pilot Programme. We will have mentees and mentors from the first cohort as well as interested colleagues and guests join us to network and discuss the future of the programme.
Please let us know with your registration if you are coming, we meet at the Dozentenfoyer in the Main Building of ETH Zurich.
Visit of the Student Project House 10h00-11h00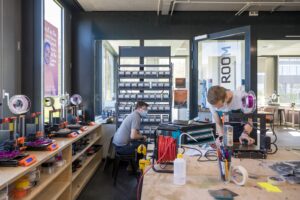 (Photo: ETH Zürich / Alessandro Della Bella)
You asked, we listened: several members have expressed a desire for more interaction with students, to understand what it's currently like to be at ETH. Please sign up for this guided visit of the new Student Project House, a unique space where students design and test their ideas.
We meet at the entrance on Clausiusstrasse 16, 8006 Zürich.
Registration - Deadline on Friday, 10 June
Useful Information
Arrival by car
There is a handful of parking spaces directly in front of the Mühle Tiefenbrunnen and an underground parking.
Arrival by public transport
The transfer from Zurich main station to the Mühle Tiefenbrunnen takes about 15 minutes.
The transfer from Zurich airport takes about 45 minutes.
Take Tram 2 or 4, or Bus 33 to the stop Wildbachstrasse or Bahnhof Tiefenbrunnen. You can also use Bahn S6 or S16 to Bahnhof Tiefenbrunnen.
Accomodation
If the way home after the event is too far for you, we have the following accommodation suggestions near the ETH main building.
Hotel Florhof (close to Central and the ETH main building)
Hotel St. Josef (also close to Central and the ETH main building)